Todd Elder has been free diving for about 23 years. During those years, he has seen a lot of fish underwater, including sheepshead. That is why he immediately recognized a record-sized sheepshead at the Chesapeake Bay Bridge Tunnel (CBBT) on May 10. This fish was a monster. It was much larger than any he had seen before. The fish has now been accepted as a new spearfishing world record by the International Underwater Spearfishing Association.
Sheepshead are inshore fish that are found up and down the East Coast. They have a somewhat humped back and vertical dark stripes against a gray background. They have human-like front teeth that some find creepy. They are strongly associated with hard structure, such as reefs and bridge pilings. In Virginia, they average up to about eight pounds. A 10-pound sheepshead is a genuine trophy and qualifies for a citation (award). Elder's record weighed 17.4 pounds.
He captured it while free diving, which is just what the term implies. Divers don a mask, fins, snorkel, and weight belt and visit the underwater world for as long as they can hold their breath. Spearfishers add a speargun or pole spear so they can target a meal. As for the fishing aspect, it is a very ethical and environmentally friendly way to harvest fish.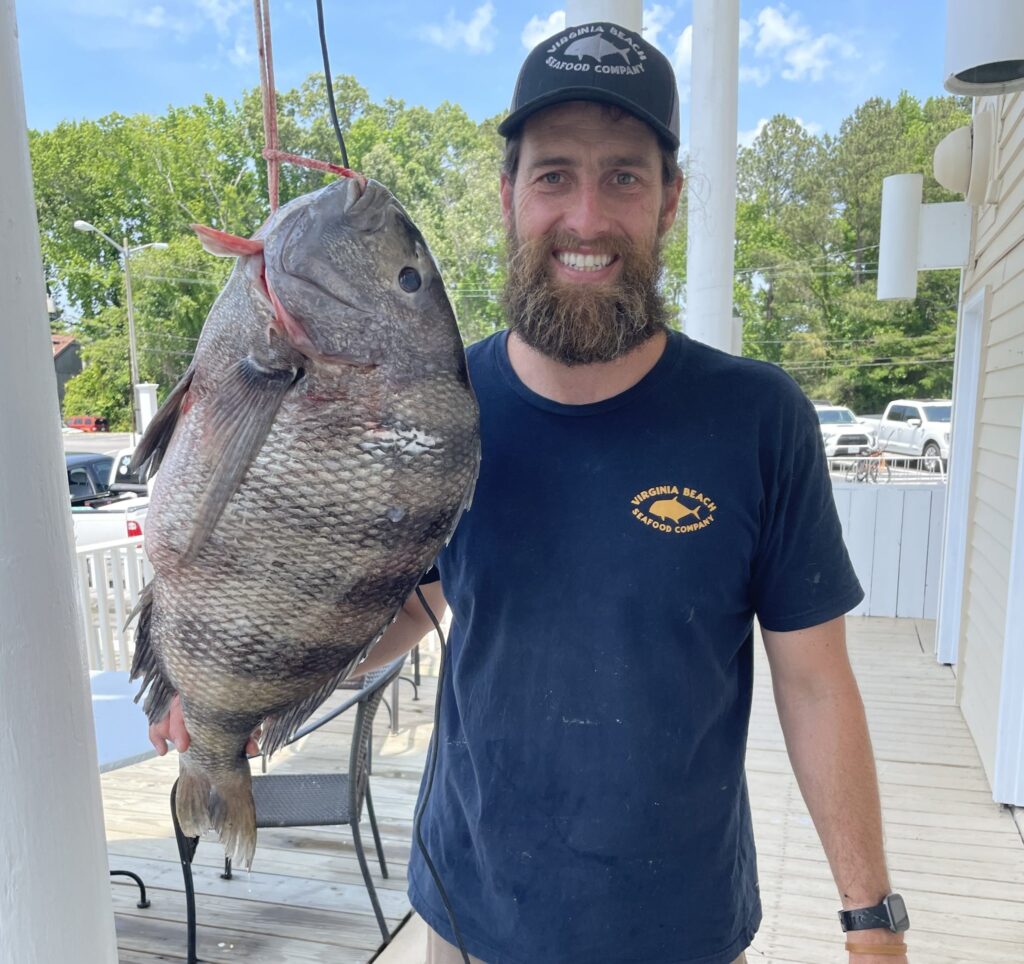 Free diving and spearfishing are dangerous sports. At the CBBT, the current can be exceptionally strong. Even strong swimmers can become suddenly exhausted. Divers can get snagged by abandoned fishing gear around the pilings. With the often low visibility, it is easy to get disoriented. Spearfishing should only be attempted by those who have had guidance.
Elder says, "There is a lot of guidance available online now. When I started, there was none. You had to learn from someone who already knew the sport."
Elder dives often enough that he doesn't really train out of the water. "However, there are exercises you can do to prepare. You can do breathing exercises on land. Of course actual time in the water is best," he says. Elder notes that he has larger lungs that the average 38-year old, so that gives him an edge.
Elder said he actually did not expect to see sheepshead when he hit the water on May 10. Sheepshead are more of a summer visitor, so Elder was looking for other species such as tautog or striped bass. He was surprised to find a school of sheepshead, and even more startled to see the extra large specimen in the school. He knew right away the fish was a potential record.
"I went to the surface to get a breath and to calm down a little. I dove down and slowly approached the fish, which did not swim away."
The fish initially weighed around 19 pounds, but it took Elder two days to find a certified scale that would be accepted by IUSA. By then, the weight had dropped to 17.4 pounds.
Elder works as a commercial diver. He spearfishes commercially as a side job at his company, Virginia Beach Seafood Company. He hopes to grow the business into a full time livelihood. In addition to sheepshead, his business offers ethically harvested (no bycatch) fresh mahi, cobia, triggerfish, tautog, striped bass, tuna, and more.
"My favorite is African Pompano," says Elder. "We get them in the gulf stream," he said. "They are absolutely delicious, low in mercury, and make great sushi."
Publication at Chesapeake Bay Magazine