"You're gonna get excited when you see it, but you try to just stay calm, moving very slow"
The off-colored waters of Chesapeake Bay aren't always the best place for spearfishermen looking to collect tasty fillets. But as veteran freediver Todd Elder proved earlier this month, the bay holds plenty of oversized, record-class sheepshead for those willing to swim down to their level.
On May 10, Elder speared a 17.4-pound sheepshead in the bay. The fish been officially accepted as a new world record for the species by the International Underwater Spearfishing Association, according to the Virginian Pilot.
Freediving from a jet ski near the Chesapeake Bay Bridge-Tunnel, 38-year-old Elder was looking for fish to supply his seafood business, the Virginia Beach Seafood Company. He was hoping to find a few striped bass and tautog when he spotted a school of six sheepshead near a piling.
After taking a deep breath at the surface, he dove down and picked out the biggest one in the school.
"I've seen large sheepshead before, but this is by far the biggest fish I've ever seen out there," Elder told reporters. "We shot a couple fish in the 12-to-14-pound range [previously] and this thing just dwarfed all of them."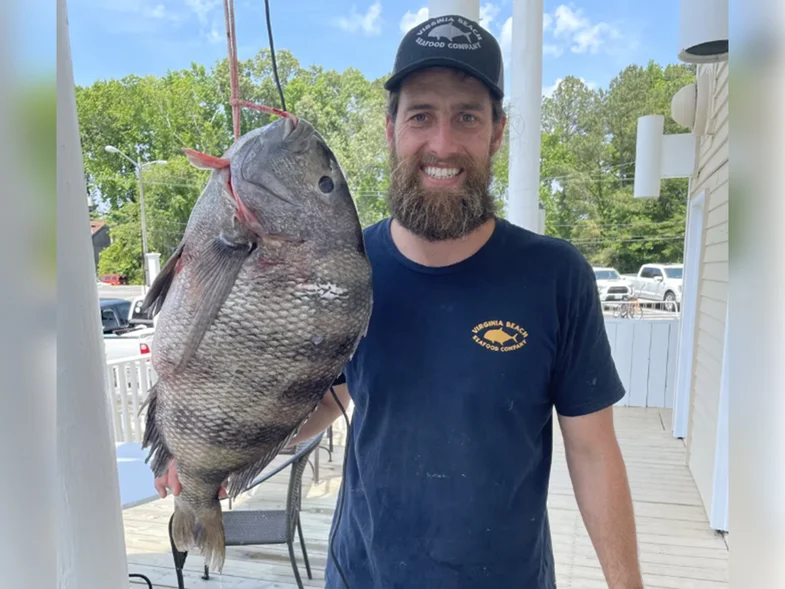 Realizing he had an opportunity at a record-sized fish, Elder settled his nerves before pulling the trigger on his speargun.
"You're gonna get excited when you see it, but you try to just stay calm, moving very slow," Elder said. "After the trigger is pulled and you have that fish in your hands, then that's when all the emotions happen and the real excitement hits."
That night, Elder weighed the sheepshead on his hand scale, which registered 19 pounds. Two days later he was able to get it on a certified scale, where it weighed 17.4 pounds, surpassing the previous IUSA men's world record by more than two pounds.
"I just got lucky. I love eating these fish, diving for them, and am grateful that they are usually a guarantee if the visibility is decent. We don't have red snapper (yet) and this is the closest thing to it," Elder told the IUSA, adding that he served the fish to his family for Mother's Day.
While Elder's fish is a giant by most standards, it's still four pounds shy of the IGFA all-tackle world recordcaught in New Orleans in 1982. Looking at line class records for the species, the record-keeping organization lists eight other world-record sheepshead that have been caught from Chesapeake Bay over the years.
Publication at outdoorlife.com